So I've been told I need to update my blog (by a couple of people). So what to write about? Well, this blog is called The Objects Of my Obsessions - so I better write about what something I've beeen obsessed with.
1 year and 3 months - thats how long I've been running. 1 year - that's how long its been since my first RunDisney event...a 5k. And here I am, finished my first(?) half marathon!
Ive gotta say, I still have a LOT of days where I still don't like running but I've made a lot of friends but in someways running has saved my life - its been a long year.
Okay on to my marathon weekend recap!
On Thursday, Mom, Dad and I headed to Disney where we were staying at Boardwalk (PERFECT location for this race), dropped our stuff, and then headed to Expo at ESPN Wide World of Sports. After some mixups we headed over to the HP Field House to pick up my bib number and bag check sticker. Thats something I wish they would change - you don't get your bag until you pick up your shirts so you've got people carrying around loose bibs...saw quite a few hit the ground. Hope nobody lost theirs!
Then we headed over to the Jostens Center to pick up my shirt and bag and all that good stuff. Because I was running the 5k AND the half first I had to go UPSTAIRS and pick up my 5k package and then I had to go DOWNSTAIRS and pick up my half stuff. I was exhausted already and the races hadn't even started yet! Then the fun part! Time to go shopping! First I cruised by the RunDisney booth to check out the medal that would soon be mine then I made a bee-line for the ifitness booth because I had been eyeing an extra pocket for my running belt.
After that I didn't need anything else so Mom and Dad headed back to the resort while I tried to catch up with my friend Joe. While we were there we ran into our friends Happy, Pattie and Lori.
Later, after surviving the craziness of expo Joe and I dropped his stuff at his resort, and then after an interesting encounter involving his phone headed to Magic Kingdom for his first waffle sandwich and first time visiting New Fantasyland. But we couldn't goof around too long because we had to be up at like 3 AM for the 5k. AND we were meeting friends to celebrate Lori's birthday at the Bellevue Lounge. What a great way to start the weekend!
Friday morning, got up at like 3, put on my Running Team shirt and got on the runner's bus to EPCOT where I found my team (Go Blue Tide!).
This year was especially fun because we had 40+ team members running/walking the 5k including my friend Lou Mongello - who was completely ready with a utility belt complete with Doritos, Twizzlers, and Donuts. A little much for a 3 mile walk if you ask me LOL.
Friday night we headed for an early dinner at the Pasta bar at the Art of Animation...apparently about 200 other people had the same idea! We were all looking to carb load I guess! It is very cool though - you go up there and pick your noodles, sauce and toppings that you want.
After a pleasant walk around the resort, we headed back so I could get to bed early, which at Disney is VERY weird! Well, I must have gone to bed too early (around 9 PM) because I was up at 11:50 with a bad case of nerves...looking back I think it was more excitement than nerves. I never really went back to sleep so that was interesting. Got up for good at 2, got dressed and headed down to meet Lori in the lobby and get on the bus. We didn't have to wait very long for a bus and were soon at EPCOT to find our team.
After meeting the team, taking pictures and the traditional pep talk from Lou it was time to head to the corrals! For some reason that took a LONG time - it was like a cattle heard. So Steve,Deanna, Nicole, Joe and I used our time wisely and used the Porta-Potties there, which I should mention were on a pretty precarious angle! Yikes!
Finally we headed to our corrals where we met up with George and waited around but we had a good time psyching ourselves up, looking for Joey Fatone and seeing all the awesome costumes (did anyone else see Aladdin, Jafar, the Genie and my favorite, Abu?). Before we knew it the first corral fireworks went off (WOW, that was a show), and before we knew it, it was our turn to go!
I won't bore you with a mile by mile replay (because frankly it was a lot of dark roads and two weeks removed from it, I dont remember). But I do remember around mile 2 we came across a HUGE pirate ship with Captain Jack and Barbossa. The line was crazy long so we kept going. A little while later we came across Jack Skellington. Okay, 5k down! Woohoo....10 miles to go! BUT, I had done my research and I knew we were just 2 miles from the Magic Kingdom! Around this time we lost Steve and Deanna as they took off on a faster pace so I ran my race with Joe and Jillian. First we had to survive "Contemporary Hill". In the future, I plan on not even bothering trying to run that one - just walk it and pick up speed when you get up the other side. Pretty soon we were passing by some people on unicycles and crazy bicycles as we entered the Magic Kingdom parking lot.
Heading into Magic Kingdom I was feeling pretty good! The sun was coming up, I could see the gate that would lead us into the park between Tony's and the hat shop, and I knew soon we would be turning the corner onto Main Street to see the castle and our team cheering us on! So cool! This being one of my first big races I had never really experienced seeing the team cheering for us on the course! Wow! What a pick me up!
As we ran down Main Street I tried to soak it in - the sun was almost up but the Dream Lights were still on. Before I knew it we were heading through Tomorrowland, into Fantasyland, then through the castle....and STRAIGHT into a standstill traffic jam. We think people were stopping on the bridge to have their picture taken, ugh. So we kind of walked by the photographer and tried to look like we were running the best we could. I think I had Jillian convinced that the photographer on the ground was just trying to get a picture up her skirt LOL! After that it was into Liberty Square ("EW! Were running in Poo!"), Frontierland, and then backstage past the giant-castle-float-they-use-for-everything and Phllip and Aurora.
Right around Mile 7 I started losing energy since Id only been able to eat half a bagel some 5 or 6 hours before so I chowed down on the Kit Kat bar I had stuck in my belt (what? Im no pro runner so Im not into Gu yet!) Then it was back out on the road again. The sun was up now so there was a lot of shuffling through empty water cups and around mile 8.5 my leg started telling me that it was done. Not good when the race is 13 miles! So Joe and I started doing a little more walking at the mile markers (walk a minute...sometimes more) but I tried to push through the pain and I'm pretty proud of how I did.
Skipping ahead to Mile 11 - "The Overpass of Doom". Now I had heard of this and in the condition my knee was in I was NOT looking forward to it, but I muscled my way up. At the top it was pretty cool to look down and be able to see ALL the people still behind us. That may have been my favorite view...even more so then the castle. :) But we weren't done yet...there was another hill...CRAP! On this one there were two announcers and a big screen. The announcers were asking runners where they were from and shouting it out....we seemed to be around a lot of people from Virginia!
Mile 12...heading in to EPCOT but I just wanted to be done. I do remember seeing Phineas and Ferb out for pics but mostly I remember Joe telling me to just keep pushing because we were going to come around the corner and see our team again...sure enough there they were just in time! I needed that boost right there. A few days later I was excited to see that that moment was caught in the running team recap video and I don't look so bad, in fact I have a huge smile on my face!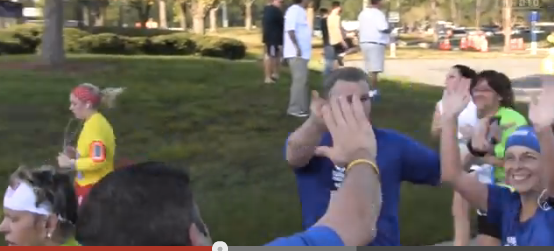 No idea how Im still smiling here. So thankful for my team!
1 more mile - into EPCOT. Into Future World, make the loop around at the entrance to World Showcase and out. I was in quite a bit of pain here but I knew we were done so I kept pushing...ouch. At one point I told Joe just to go but he was awesome and waited for me.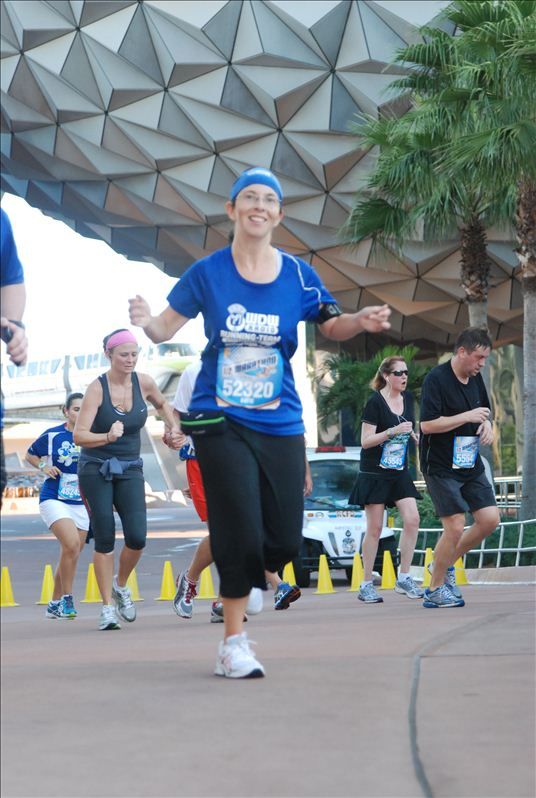 See that smile? Its all a lie!
I remember coming out of EPCOT and seeing the Gospel Choir. Now Id heard from past years about the Gospel Choir and how its such an inspirational push. Not for me...I feel bad about this but I was kind of like "ugh be quiet!" But then, I saw it....The Finish Line! As we got closer I found my Mom and Dad cheering me on as we inched closer and closer. I remember right after that Joe said to me "Okay this is it. Give it all you got". I tried to push but there was NOTHING left...like an engine that stalled...and that's exactly what I said "There's nothing left!" But I pushed through, crossed that finish line, and got what Id been waiting for for months! My Donald medal! There was a part of me that had been really nervous about it but I had done it! 13.1 miles! And amazingly, outside of my leg, I didn't feel like DEATH!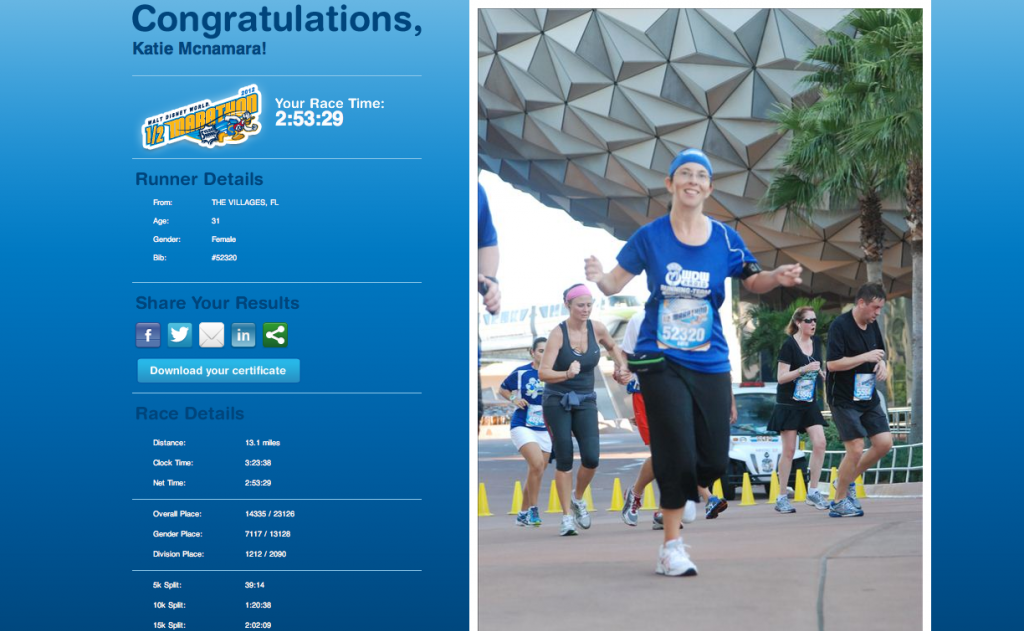 I wanted to finish in under 3 hours and I did!
Instead of taking the Runner's bus back to Boardwalk I decided to keep walking and walk through EPCOT because I knew if I sat down on that bus, I'd be in trouble. And I didn't have to walk through the park alone, as I was heading in I ran into Lori (yeah there's a story about that but I wont share it here LOL). Surprisingly, neither one of us didn't look too bad for having run 13.1 miles. Luckily, I was done....she still had 26.2 miles to go. But we did have a nice walk through the park, cheering on the runners that were still finishing. Finally, we made it back to Boardwalk where Lori caught up with her family and I headed back to my room for a shower, ice and FOOD! But I gotta say - for my first half (the farthest I had ever run by 3 miles) I was in good shape. No blisters, no missing toe nails. Just a little sore and tired.
Somehow (I think I was still running on adrenaline), I headed to Magic Kingdom for the WDWRadio meet of the month then it was off to Teppan Edo for an awesome dinner with friends...did I mention how grateful I am for the elevator at Teppan Edo?
The next morning I definitely wanted to get up and support our marathon runner's but when the alarm went off at 2...there was no way - so I went back to sleep (sorry guys!) I woke up again at 5 but I knew that bus transportation had been suspended and all the roads were closed so there was no way I was getting to Magic Kingdom...so I went back to sleep for a couple of hours.
The good news is that when I finally did get up I was a little sore but no where near as sore as I was after Tower of Terror! Yay! So I got up and headed for EPCOT. Walked over to EPCOT and just as we got there, I spotted our cheering team heading in the International Gateway entrance just as the first runners were coming through. For the next 3 hours or so I had a great time cheering on and encouraging our runners...and everybody else. So proud of everyone who ran!
Of course I wore my medals and I even got congratulated a couple of times by runners on the course! Here it is, nearly mile 25 of a marathon (nearly mile 38 for the Goofy runners) and they took time to congratulate us! One of the many reasons I love Disney races! I heard someone say "Wow I feel like an underachiever". She was wearing a half medal too and I understand what she meant - but I'm proud of my 13.1 miles! I literally hung around until the very end for the last runner (who almost looked like he had a personal escort) and then when it was time move...WOW was I stiff!
To help my legs I spent a few hours walking around EPCOT, got my picture taken with Señor Donald and then later, headed back to Rose and Crown for the Running Team meet up to wrap up another great weekend.
Like I said, I was pretty done at the end of my race but I've already found myself saying to someone "when I run the half next year" and oh yeah...Im now running the Princess half...in 3 weeks. :O